During our Erasmus+ stay in Hamburg at Niels-Stensen-Gymnasium (NSG) from 15.02. – 24.02.2018 our goal was to produce the biodegredable plastic polylactic acid through fermentation by lactobacillus plantarum. After purification of lactic acid out of the medium, we polymerized it to polylactic acid (PLA) through an esterification.

The education of the mentors took place Friday and Saturday before the other partners arrived at Sunday. All mentors exercised the experiment and their presentations in details. With this expirience the mentors were able to guide their workgroup through the experiment very successful. Till Sunday the mentors lived in host families. Thanks for the support of the families.
After the arrival of the other partners on Sunday evening, the meeting started with a dinner together. Monday morning after an impressive opening ceremony at NSG the labwork started. Each of the 12 international work groups built up their self made fermenters and started the fermentation by inoculating the pre culture of lactobacillus into the medium
To get a high concentration of lactic acid for the polymerization we fermented for two and a half days. During the fermentation we measured the cell growth, by the optical density (OD), the glucose- and the lactic acid concentration.
On Wednesday noon the work groups started the purification of lactic acid by centrifugation and distillation. After the purification the polymerization to polylactic acid by esterification took place. During the afternoon all work groups presented their results to the audit. After the presentations, the hydrolysis of PLA was demonstrated by adding water into the beaker with the solid plastic PLA.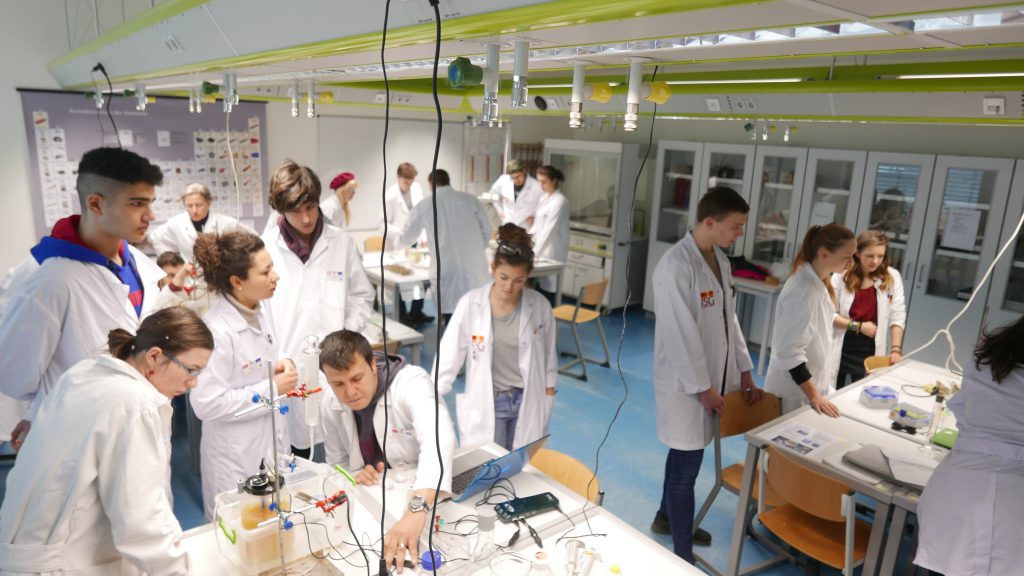 The cultural part of the meeeting started in the late afternoon with a reception of the group at town hall of Hamburg. After a short historical review about Hamburg, explained by the cultural mayor, we had the opportunity to have a look into the historical rooms of the huge town hall.
A visit of the Plaza of Elbphilharmony completed the evening perfectly, with an amazing view over the Hamburg harbor.
Thursday morning began with a boat tour through the harbor of Hamburg and a visit of the old Elbtunnel. In the afternoon we had the opportunity to make a guided tour through the town´s landmark, the St. Michaels Church.
On our last day we made a sight seeing tour by bus, which was also really interesting. Friday evening a farwells party at NSG was celebrated and then we had to say goodbye.